Uwell Caliburn AZ3 Pod Kit
---



The Caliburn keeps 'em cookin!...


The Uwell Caliburn AZ3 Pod Kit is a new breath of style and compact formfactor in the now fantastically well-rounded UWELL family. Similar to it's older sibling, the Caliburn A3S Pod Kit in it's pocket-friendly yet powerful footprint, the new AZ3 kit delivers a host of new streamlined and stylish benefits over it's predecessor and continues to evolve the Caliburn device range with each new iteration of the pod device's evolution.


The AZ3 kit offers an ideal "Fill & Go" Mouth-to-lung style vaping companion that delivers an incredibly satisfying vaping experience. This super-compact and user-friendly pod kit offers an unmatched vaping journey for both beginners and even the most experienced vapers.






Available in three stunning colours, the Uwell Caliburn AZ3 even comes with a convenient lanyard for hands-free portability. Its sleek aluminium alloy chassis features an RGB lightbar that displays the battery's charge level, while ergonomic ridges ensure a secure, comfortable grip. Powered by an upgraded and built-in 750 mAh battery, the AZ3 delivers up to 17W of total power, providing a consistently satisfying Mouth-To-Lung vaping experience.


Out of the box, The Caliburn AZ3 kit includes two refillable fixed-coil Caliburn A3S pods, allowing you to indulge in your favourite e-liquids. With the 0.8ohm pod installed, you will be able to enjoy the perfect Restricted-Direct-To-Lung vaping sensation, which is tailor-made for use with E-Liquids such as Nicotine Salts for example. Or if you prefer a more intense or "throaty" hit, the 1.0Ohm Mouth-To-Lung oriented pod will deliver a more laid-back vaping experience that is more suited towards standard nicotine E-Liquids (Aka. Freebase Nicotine E-Liquids) allowing you to have the best of both worlds.






The Caliburn AZ3 is also backwards compatable with the original UWELL A3 pods, meaning you can also select from a wider range of usable pods if you wish to switch between either pod at your leisure.


With it's smart yet effective auto-inhale activation function, the AZ3 kit has no requirement for endless buttons, function settings or complicated menus. By simply drawing on the on the mouthpiece of the Caliburn AZ3, it will provide a crisp, smooth and satisfying vape draw that closely mimics a cigarette: Thus making the AZ3 kit a perfect device for any newcomers to vaping.
And what's most useful, UWELL's intelligent yet highly user-friendly built-in chipset automatically adjusts the wattage of the device for you based on your pod selection, ensuring a hassle-free & optimal vaping experience for every use.
The AZ3 kit doesn't just have "the upmost simplicity compounded with sleek, elegant style" card either… Featuring UWELL's new, stylish and easy to understand "Breath-Pulse" LED system imbedded into it's onboard lightbar, the AZ3 Allows the user to keep track of their current available battery charge and remaining power just by the colour of the LED lightbar itself. Thanks to this new addition to the AZ3 kit's design arsenal, it has eliminated the need for fiddly control buttons and hard to read OLED screens that can become frustrating, and thus making using the Caliburn AZ3 a pleasure to use and as easy as 1-2-3!






The 2ml Caliburn A3S pods also make refilling a breeze: When the time comes to top-up your A3S pod, simply remove the mouthpiece to reveal the filling inlet port and pour away. No need to detach the pod from your kit or fiddle about with pesky rubber bungs! The A3S pod's built-in mesh coils heat up your E-Liquid faster, enhancing flavour and vapour delivery. And say goodbye to messy coil changes: When your coil has reached the end of it's lifespan. Pop off the pod and drop in a fresh replacement.






The UWELL AZ3 kit also offers up the ability to utilise 2 Amp USB Type-C Fast Charging

**

aswell. This allows users with even the fastest-paced schedules and lives to recharge in a flash when on-the-go or in-between activities.

For optimal performance, we recommend pairing the Caliburn A3S pods with 50VG/50PG Standard E-Liquids (Such as the Mirage Black Label or Amber Range) or Nicotine Salts (Such as our Juicebar or Absolution Salts ranges).



Please note:

The Caliburn AZ3 kit

IS NOT

provided with a USB-C charging cable. A USB-C cable can be purchased separately by clicking here.

** 2 Amp / 5V USB Wall Plug required for Fast-Charging functionality.
(2A Wall Plug also Sold Separately)



Important:

When filling your pod with e-liquid for the first time, allow the pod to sit for ten minutes before use. This will allow the e-liquid to better saturate the wicking material, a type of cotton, to prevent dry hits and ensure the best flavour and performance from your coil.


FEATURES:


- Super-Lightweight & Discrete Design
- 750mAh 2A Fast-Charging Capable Battery

**
- Compatible With Both A3 & A3S Disposable Pods
- Intuitive LED Lightbar Battery Status Notification
- Auto-Inhale (Pull-To-Draw) Activated
- Easy Top-Filling Pod Design


SPECIFICATIONS:


WHAT'S IN THE BOX?

1 x UWELL Caliburn AZ3 Pod Device
1 x UWELL 0.8Ohm A3S Fixed Coil Disposable Pod
1 x UWELL 1.0Ohm A3S Fixed Coil Disposable Pod
---
Related Products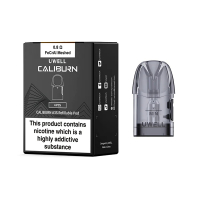 Uwell Caliburn A3S Refillable Pods
£12.00
...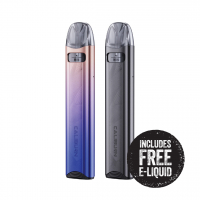 Uwell Caliburn A3S Pod Kit
£20.00
...