Uwell Caliburn A3S Pod Kit
---











A Lightweight Legend Returns…


Introducing the latest Caliburn A3S Pod Kit by UWELL, an elegant and lightweight refillable pod kit that is easy to use & delivers exceptional flavour for all MTL (Mouth-To-Lung) style users whilst delivering up to 16 Watts of continuous power.

Producing a sensational vaping experience, the now legendary Caliburn series has returned with a brand-new, fully improved and upgraded variant of the wildly popular Caliburn A3 kit. Offering a 2A fast-charging capable 520mAh built-in battery and an array of improvements over it's predecessor, the Caliburn A3S kit brings affordable, stealthy and enjoyable vaping back to it's roots.

With it's renowned build quality and high reliability still held in high regard, the A3S kit utilises the UWELL's new A3S Fixed Coil Pod system that has also been revitalised with a host of new improvements. The A3S pod now clips magnetically into the device, offering upgraded reliability and ensuring that your pod is always secured firmly in-place.

The A3S kit comes complete with an included UWELL 0.8ohm Fixed Coil Pod (Pre-Installed), as well as a spare 1.0Ohm Fixed Coil Pod included inside the box. The revised A3S pods feature UWELL's famed Pro-FOCS Technology that produces a rich and accurate flavour that is consistent throughout the lifespan of the coil. You can also use the standard UWELL A3 pods with the Caliburn A3S meaning you'll have plenty of choice when it comes to pod availability.




The 0.8Ohm Fixed Coil Pod delivers a warm and airy Mouth-To-Lung vape and if you want to experience a more restricted draw, you can try 1.0Ohm Fixed Coil Pod which will feel very akin to drawing on a cigarette. A large viewing window will let you see how much liquid is left inside your pod and can be quickly refilled by lifting the silicone tab located on the side of the pod itself.

The intuitive "inhale activation" feature functions in the same design as a disposable device and will activate the device with a simple puff, meaning there are no fiddly buttons to worry about. Simply fill your pod, inhale and go!



The UWELL A3S kit an extremely lightweight and compact device that is a pleasure to hold and won't take up much room in your pocket or bag at all. Featuring a branded LED Lightbar the face of the device, the Caliburn A3S utilises a simple traffic light system to keep you constantly informed of how much battery life is left inside the device.

When the time comes to charge your device*, the rapid 2 Amp on-board charging functionality will ensure that your charging time is kept down to an absolute minimum**.

The UWELL Caliburn A3S Pod Kit is a terrific option for all beginners or anyone looking for an ideal, hassle-free way to transition away from disposable vapes and save money. We highly recommend pairing the Caliburn A3S kit with a Nicotine Salts E-Liquid such as the Juicebar or Absolution Salts ranges for a mouth-watering all-day vape!

*Please Note: The Caliburn A3S Pod kit does not include a USB-Type C cable inside the box and is Sold Separately.

** 2 Amp / 5V USB Wall Plug required for Fast-Charging functionality.
(2A Wall Plug also Sold Separately)

FEATURES:


- Super-Lightweight & Discrete Design
- 520mAh 2A Fast-Charging Capable Battery
- Compatible With Both A3 & A3S Disposable Pods
- Intuitive LED Lightbar Battery Status Notification
- Auto-Inhale (Pull-To-Draw) Activated
- Top-Filling Pod Design

SPECIFICATIONS:


WHAT'S IN THE BOX?

1 x UWELL Caliburn A3S Pod Device
1 x UWELL 0.8Ohm A3S Fixed Coil Disposable Pod
1 x UWELL 1.0Ohm A3S Fixed Coil Disposable Pod
---
Related Products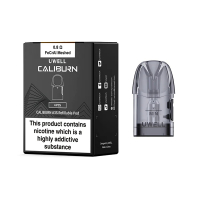 Uwell Caliburn A3S Refillable Pods
£12.00
...
Uwell Caliburn AZ3 Pod Kit
£16.00
...