Voopoo Drag 2 Kit Review
3rd December 2018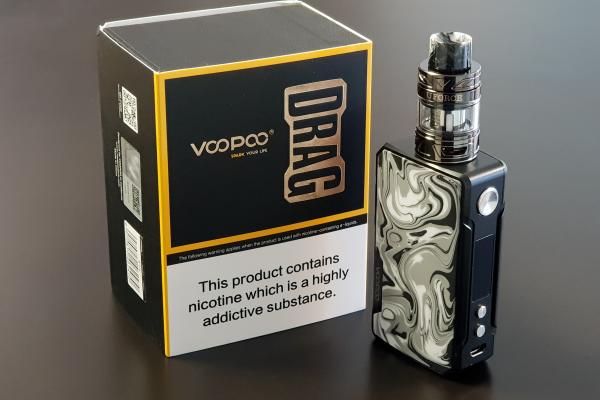 Today, there are many very well-rounded sub-ohm mods and kits available to buy and choose from. One of the most acclaimed devices to appear over the last twelve months in the eyes of users and critics alike was Voopoo's highly successful Drag 157w box mod that quickly took the vaping world by storm.
Fast forward one year, and now Voopoo have just released the highly anticipated and eagerly awaited Drag 2 Kit to market. Following such an exceptionally high grade product with a successor that carries such a heavy burden of expectation along with it, can be very difficult for device manufacturers to deliver upon. However, Voopoo have done themselves proud once again and pushed the limits of style and substance even further with their second rendition of the Drag.

Can it topple the greatness and acclaim of the California designed original, whilst at the same time improving on what is already considered by many to be one of the best examples of a regulated dual 18560 box mod available? Let's find out…
Kit Overview & Design
With a year's progress under it's belt, The Voopoo Drag 2 kit has some nice, satisfying changes and additions to the previous model. Most notably being the new 2ml UForce T2 sub-ohm tank which comes bundled with the Drag 2 device enclosed in a sleek, stylish box. The T2 tank has been given the 2018 style overhaul and now sports a rather dazzling standard 810 removable resin drip tip, as well as a slide-to-fill top mechanism to speed up refills and ease of use. The inner clasps on the tank's slide-to-lock mechanism are strong and rugged, meaning that your tank won't accidentally open if placed in your pocket or bag etc. or knocked unintentionally which was a known issue with some earlier slide and flip top tanks.
The 22mm tanks packaged with the kit as standard are presented with a striking chrome gunmetal finish and a wide-bore 2 slit adjustable airflow control which provides a smooth, airy and flavoursome vaping experience. There are also a good array of coils available to match individual vaping styles such as the U2 (0.4Ω), U4 (0.25Ω), U6 (0.15Ω) & U8 (0.15Ω) respectively, which provide a well-rounded & balanced draw. There are also the N1 (0.13Ω) mesh coils to offer if you wish to indulge into deeper flavour.
The device itself has been hugely improved over the previous model, the Drag 2 is now 25% lighter then the original unit as well as being given a slightly more condensed scale giving us a smaller overall form factor to its predecessor. The 510 connector sits dead centre of the unit instead of leaning towards the fire button which is much more preferable and ergonomic from a personal standpoint and is welcomed with open arms. In terms of design, VooPoo has taken every aspect of this device into consideration for day-to-day use and has ticked all the usual ubiquitous boxes and built upon new industry standards once again. Each device possesses it's own unique resin side panel facia as standard which stands out and screams top notch quality with it's smooth, silky finish that matches with the 810 drip tip on top of the UForce tank that I briefly mentioned earlier.


The battery door panel is held together by two strong mini magnets that clip firmly into the ruggedly constructed CNC aluminium casing giving the frame sturdiness and strength. This also includes a two push-pin battery sled with a fabric pull tab which is a breeze to access and change out battery cells with little effort and ease. However, even with this trademark stocky and strong feel, the Drag 2 feels surprisingly light compared to similar offerings on the market of the same breed or calibre at multiple varying price points.
Performance
One of the most impressive, major features and go-to functions of the original Drag mod actually lied out of sight deep inside the device itself. VooPoo's in-house GENE chip, now widely regarded as the best chip since the YiHi chipset renditions typically seen on board the SXmini series and also whimsically dubbed the "DNA Killer" by some, retains it's spotlight as the returning star of the show. This time around implementing the new GENE.FIT technology, VooPoo have incorporated a V0 class fireproofing bridge to block day-to-day dirt & pocket lint as well as a new intelligent 3-setting mode that can automatically calibrate and maximise the output of your tank whilst protecting your coils' overall lifespan.
This mode works on a 3 setting pre-programmed function and can be adjusted automatically or manually, consisting of:
> Battery Set
> Flavour Set
> Cloud set
And as if that wasn't impressive enough, VooPoo have really taken their time during the production and analysis of the GENE.FIT and it shows. VooPoo have tested a whopping 161 of the most popular tanks during R&D that are fully calibrated to use this function meaning some of most common sub-ohm tanks from around the world will likely be supported from the get-go. Sadly however, RDA & RDTAs are not supported in FIT mode which is somewhat a given. Although it would have been great see the implementation of some kind of automatic calibration feature for rebuildable users.
With that aside, the GENE.FIT chip builds on the same quality and scope that blew our minds back in early 2017 with it's in-depth and brilliant VooPoo desktop software which gives the user many options to configure their devices perfectly to their personal taste. These include, but are not limited to: Time cut-off settings, temperature lines for TC coils, custom power curvatures, user interface customisation and on-screen graphical modification as well as six pre-programmed memory settings making it easy to build a custom profile for each of your tanks or RDAs.
I have not used a software and chipset as deep or customisable as VooPoo's GENE chip since the launch of Evolv's DNA 200 platform, which I was a huge fan of. I even changed my default VooPoo boot-up splash screen and off screen logo to my own design on the first day I opened the box. The user interface is intuitive and well organised, with three clicks between menus. Navigating the settings feels seamless and provides a fast, responsive experience with a simplified presentation despite sometimes switching into FIT mode by accident when attempting to turn off the device which can prove to be of some annoyance as I run in wattage mode only. This requires me to occasionally switch back to wattage mode when I turn the device back on.
And boy, does this kit really hit hard! The airflow is stellar and smooth, the flavour reproduction is spot on and most importantly the power output is excellent. I vaped through two 18650 batteries at 90w over the course of a 9-hour day and I felt no battery or voltage sag whilst the vape stayed perfectly consistent as if I was using a fully charged cell throughout, even after entering into 3.60V territory until flat. Also on board is a surprisingly accurate live-metering battery charge indicator which really helps gauge exactly how much juice you have left in your battery cells on a drag by drag basis that can prove to be an absolute godsend when you're running low on power or trying to make your batteries last.
Pros
> Excellent design with an elegant feel and look.
> Intuitive and unconvoluted user interface.
> GENE.FIT chipset and intelligent Voopoo Software.
> Extremely well-rounded tank with a fantastic array of coils to choose from.
> Strong, constant vaping power with plenty of grunt.
Cons
> Sometimes switches modes when turning the device off.
> Limited FIT functionality when using RDAs & RDTAs


Verdict
The Drag 2 is the upgrade to the original Drag that we were all hoping for. It has all the bells, whistles and performance of other rival DNA devices running into the lower-to-mid hundreds of pounds range at only a tiny fraction of the cost. Yet amazingly it performs like a device of triple, if not six times it's cost. VooPoo have excelled themselves once again and left 2018 with a remarkable device which many will no doubt hail as the Kit of the Year.

9/10

Written by Jim Horsfield
Instagram @blackout_guy

The Voopoo Drag 2 is available now
Check the location of your closest Mirage store
Back