Beginners Guide to CBD
27th April 2022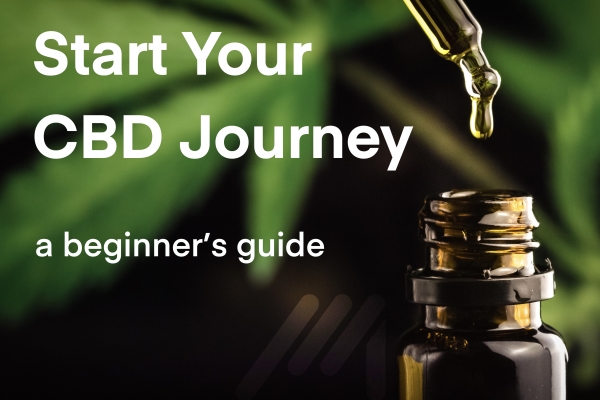 What is CBD?
Simply put, CBD is a natural compound found in cannabis and hemp. It is one of more than 100 substances known as cannabinoids found in these plants, which are believed to provide users with an amazing array of health and wellness benefits. Unlike the other most famous cannabinoid, THC (tetrahydrocannabinol), CBD is not psychoactive, so it won't get you 'high'.
Where does CBD come from?
As mentioned earlier, CBD is present along with THC and other cannabinoids in marijuana and hemp, the two main varieties of the Cannabis Sativa plant species. The difference between the two is that marijuana contains high levels of THC, while hemp does not (usually below 0.3%), but has a much higher percentage of CBD. For this reason, CBD is usually extracted from hemp, which allows manufacturers to easily ensure that their products contain less than the 0.2% maximum allowed THC level in the UK.
What are the benefits of taking CBD?
Currently, there is not enough clinical research data to state with scientific certainty the benefits of CBD for specific conditions. However, there is a large amount of evidence that it may help reduce the effects of schizophrenia, anxiety, and epilepsy in children.

In addition to this, there are numerous success stories in which CBD consumers have noticed significant effects on a variety of ailments, including psoriasis, arthritis, and muscle pain.
Is CBD safe?
While more research is needed to really find out the long-term effects of taking CBD on a regular basis, many studies have shown that CBD lacks intoxicating effects and there is evidence that it successfully treats chronic pain, suggesting that it may be an effective alternative to many other pain relievers. CBD itself does not carry the risks associated with THC and levels of THC contained in CBD products are 0.2% or lower, in line with UK law.
How is CBD oil turned into a vape liquid?
The first and often most surprising thing to note is that CBD vape juice is not an oil at all. In fact, they contain three main ingredients:

CBD isolate or distillate

vegetable glycerine

Propylene Glycol
In order to transform CBD from its raw form into a premium e-liquid, it needs to be converted from a solid to a liquid. From here it combines with PG and VG to dilute the strength of the CBD to the desired level and make a liquid that can be vaped.
Is CBD Legal?
Yes!

Cannabis is currently a Class B controlled substance in the UK, meaning anyone in possession of the drug could be prosecuted. So how does this affect CBD oil and other cannabidiol-infused products?

In 2016, the MHRA (Medicines and Healthcare Regulatory Agency) said that CBD products advertised for medical purposes would need to be licensed. Unlicenced CBD products can still be sold on the UK market as long as they do not directly claim their medicinal value.
How often should I use CBD?
There is no real right or wrong dosage level for using CBD as each user has different needs, body types, and level of pain or discomfort they wish to alleviate. The best way to determine how often to take CBD is to start with a small dose and gradually increase it until you feel the greatest benefit. Only then will you really know what schedule you need to stick to.
E-liquid or Oral Tincture?
CBD E-liquid

If you're already a vaper, then this may be a good entry point for you to start taking CBD. CBD e-liquid is very similar to regular VG/PG based e-liquids but instead of nicotine they are infused with CBD. Vaping allows the CBD to transmit to your bloodstream, delivering the effects quicker than other options.

CBD Oral Tincture

For those that don't vape or those who would prefer a different option, we would recommend the CBD tincture. Administered orally using a dropper within the lid of the bottle, then held under the tongue for a few moments before swallowing. CBD tinctures take affect more slowly than e-liquid but allow for a more precise, controlled dose.
What strength should I choose?
You've decided to get started with CBD, but now is the time to decide which e-liquid or tincture strength to buy. This can sometimes become very difficult due to the variety of concentrations available. To help you make the right choice and avoid backing down from the wrong one, we've got more information and advice for you.
By law, all products containing CBD must state the amount of ingredients contained, either as a percentage of the total content (5%, 10% or 20% cannabidiol) or in milligrams (250mg, 500mg or 1000mg).

While you may be inclined to dive right in and use higher doses of CBD, we generally wouldn't recommend it. Generally, we recommend that you start with a lower dose of the product and gradually increase the concentration. By carefully monitoring the effects of CBD over a period of time, you can evaluate the effects and increase your dose if necessary. Once you reach the desired effects you will be able to determine the correct concentration for you.
What is the correct dose?
The general consensus is that users should start with around 50mg of CBD per day. This works out as 1ml of our 500mg e-liquid or 0.5ml of our 1000mg tincture each day. Starting here allows users to steadily increase the dosage until they reach the desired effect.


Alfa CBD by Alfa Labs
We stock a wide range of CBD e-liquid, tinctures and disposables, made to the highest standards using the very best ingredients HERE
Back