Elf Bar Disposable Device - Spearmint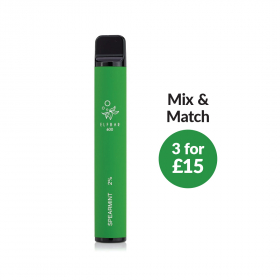 ---
Product Information
Spearmint - Simple and refreshing. A blend of crushed spearmint leaves, cool menthol with a hint of sweetness.
The Elf Bar 600 disposable vape pen is great for smokers who want to try vaping without committing to a fully-fledged vaping device. It is compact and light, making it perfect for using while travelling, commuting or on nights out, or even as a backup device. Prefilled with 2ml of nic salt flavoured vape liquid available in 20mg. There's no need to refill it with e-liquid, charge it, or change any pods or coils. Simply inhale to vape and away you go.
There are 10 flavours in 20mg nicotine salt e-liquid to choose from that can also be mixed and matched with the equally popular Geek Bar Disposable vape devices at x 3 for £15.
- E-liquid type - Nic salt
- Nicotine strength - 2.0% (20mg)
- Total puffs - 550 to 600 puffs
- Battery capacity - 550mAh battery
---