Elf Bar Disposable Device - Blue Razz Lemonade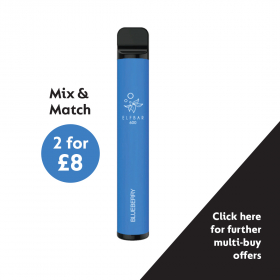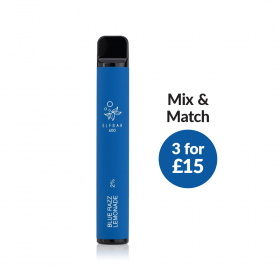 ---
Product Information
Blue Razz Lemonade - Blue raspberry and fizzy lemonade, a fruity kick with a fizzy finish. The sharp taste of lemonade is sweetened by blueberry and raspberry on exhale.
The Elf Bar 600 disposable vape pen is great for smokers who want to try vaping without committing to a fully-fledged vaping device. It is compact and light, making it perfect for using while travelling, commuting or on nights out, or even as a backup device. Prefilled with 2ml of nic salt flavoured vape liquid available in 20mg. There's no need to refill it with e-liquid, charge it, or change any pods or coils. Simply inhale to vape and away you go.
There are 10 flavours in 20mg nicotine salt e-liquid to choose from that can also be mixed and matched with the equally popular Geek Bar Disposable vape devices at x 3 for £15.
- E-liquid type - Nic salt
- Nicotine strength - 2.0% (20mg)
- Total puffs - 550 to 600 puffs
- Battery capacity - 550mAh battery
---