Aspire CF SUB Battery
Currently out of stock
Enter your email and we'll contact you as soon as it's available again.
Notify me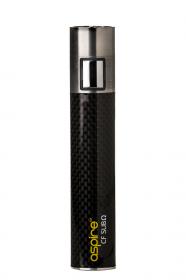 ---
Product Information
A simple to use, compact and sub ohm capable battery.
Features
- 2000mah capacity
- 4.2V Regulated Output
- Charge via standard eros charging cable
- Easy to use single button operation
- 5 click on/off function
- Supports atomisers from 0.3 to 1 ohm
- Maximum Current 40A
WARNING: This product is intended for use only with the appropriate sub-ohm equipment. By purchasing this product you agree to operate it in accordance with the instructions provided and accept full responsibility for its safe use by yourself and others. For devices using 18650 batteries, minimum rating must be 20 amp continuous or better.