Elf Bar Mate Grape P1 Pods
From:
£6.00
Choose your nicotine strength: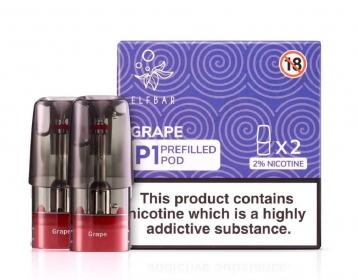 ---
Product Information
Grape Pre-filled E-Liquid P1 Pods for use with Elf Bar Mate500.
Rich sweet purple grape flavour on the inhale with Icy notes on the exhale
The Elf Bar Mate P1 Pre-filled E-Liquid Pods have been designed for usage with the Elf Bar Mate 500 pod kit only and will not work with other vape kits. Each pack contains 2 x Elf Bar pods pre-filled with 2ml of nic salt e-liquid.
Nicotine Salt E-Liquids provides a smoother throat hit than traditional e-liquids for a more pleasant vaping experience.
- Compatible with the Elf Bar Mate 500 Pod Kit
- 2ml of pre-filled Nic Salt E-liquid per Pod
The Elf Bar P1 Pods are disposable pods, meaning they cannot be refilled. Once your pod is empty please dispose of it and replace it with a new pod.
2 x Elf Bar P1 Pre-filled 2ml Pods
---