Elf Bar ELFA Pods - Blueberry Sour Raspberry
From:
£6.00
Choose your nicotine strength: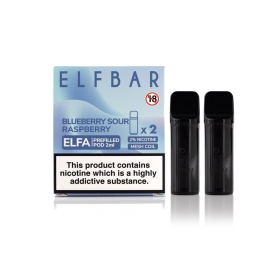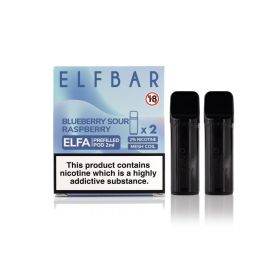 ---
Product Information
Blueberry Sour Raspberry Pre-filled E-Liquid ELFA Pods for use with ELFA Pod Kit by Elf Bar.
Mixing the sweet with the sour, luscious ripe Blueberry and tangy Raspberry is met with an intense sour shock for a mouth-watering vape experience.
The Elf Bar ELFA pre-filled e-Liquid Pods have been designed for usage with the ELFA pod ki only and will not work with other vape kits.

Each pack contains 2 x ELFA pods pre-filled with 2ml of nic salt e-liquid.
Nicotine Salt E-Liquids provides a smoother throat hit than traditional e-liquids for a more pleasant vaping experience.
- Compatible with the ELFA Pod Kit
- 2ml of pre-filled Nic Salt E-liquid per Pod
- MTL vaping
- PG50/VG50
The ELFA Pods are disposable pods, meaning they cannot be refilled. Once your pod is empty please dispose of it and replace it with a new pod.
2 x ELFA Pre-filled 2ml Pods
---