*Limited Edition* Voopoo Drag S & Vmate Pod Gift Set
Currently out of stock
Enter your email and we'll contact you as soon as it's available again.
Notify me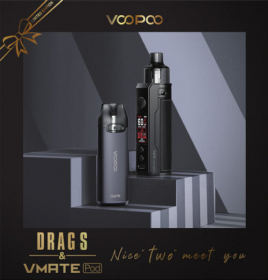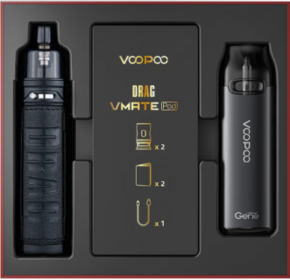 ---
Product Information
Limited edition kit deal complete with the Voopoo Drag S and the Vmate Pod Kit.



The Voopoo Drag S Pod Kit

is made of alloy, leather and PCTG with great hand feel, anti-fingerprint and anti-scratch coating. Powered by 2500mAh built-in battery and a max output of 60W, the Voopoo Drag S Pod Kit features the GENE.TT chip, allowing for super fast firing within 0.001s, and also provides intelligent functions such as PUFF recording and SMART switching start mode.





The new Drag S Pod adopts a bottom refilling design and innovative infinite airflow system for the most comfortable experience. Voopoo Drag S offers a range of coil options that will unlock plenty of options for the user, finetuning a DTL (Direct-to-Lung) or MTL (Mouth-to-Lung) vape style, without sacrificing flavour. It is compatible with the other PnP coils.



The Voopoo Vmate holds a 900mAh unvariable internal battery. Completed with a 2ml pod system with intergrated coils, this pod is easy to swap and chnage without the mess!. This pod has been designed to be 75% less leak proof than other pods and reduce consensation.

What's in the box
1 x Voopoo Drag S

1 x Voopoo PnP Pod

1 x Voopoo Vmate Pod

1 x PnP-VM1 0.3 ohm coil

1 x PnP-Vm5 0.3 ohm coil

2 x UBB-C Charging cable

2 x User Manual
Add x1

Absolution Juice short-fill & x 1 nic to your basket with this kit for FREE!
VOOPOO Drag S
Size: 116mm(Height) x 28mm(Width) x 33mm(Thickness)
Mod Material: Alloy+Leather
Battery Capacity: 2500mAh (Built-in battery)
Output Power: 5-60W
Output Voltage: 3.2~4.2V
Resistance: 0.1~3.0Ω
Pod Material: PCTG
Capacity: 2ml
Coils: 0.2ohm PnP-VM5 Coil(DL, 40~60W); 0.3ohm PnP-VM1 Coil(DL, 60~80W)
Charging: Type-C, 5V/2A
VOOPOO Vmate Pod
Size: 95.5mm(Height) x 28.5mm(Width) x 14.9mm(Thickness)
Material: Aluminum alloy
Battery Capacity: 900mAh (Built-in battery)
Output Power: 17W
Resistance: 0.7Ω
Pod Material: PCTG
Capacity: 2ml
Charging: Type-C, 5V/1A
---